If you are new to cake decorating, this tutorial for How to Make a Cake from start to finish is a great place to start!
In this video, I will show you how to successfully mix & bake a cake, how to freeze, trim, & settle your cake layers, and how to crumb coat & pipe a simple ruffled design.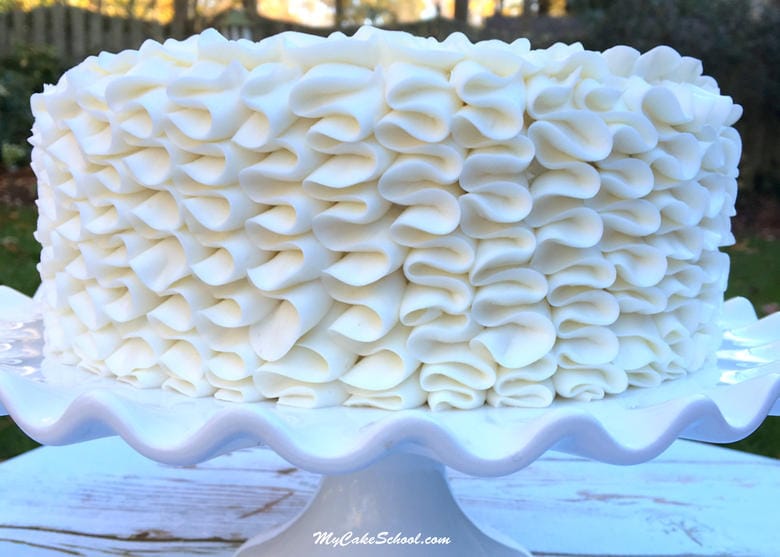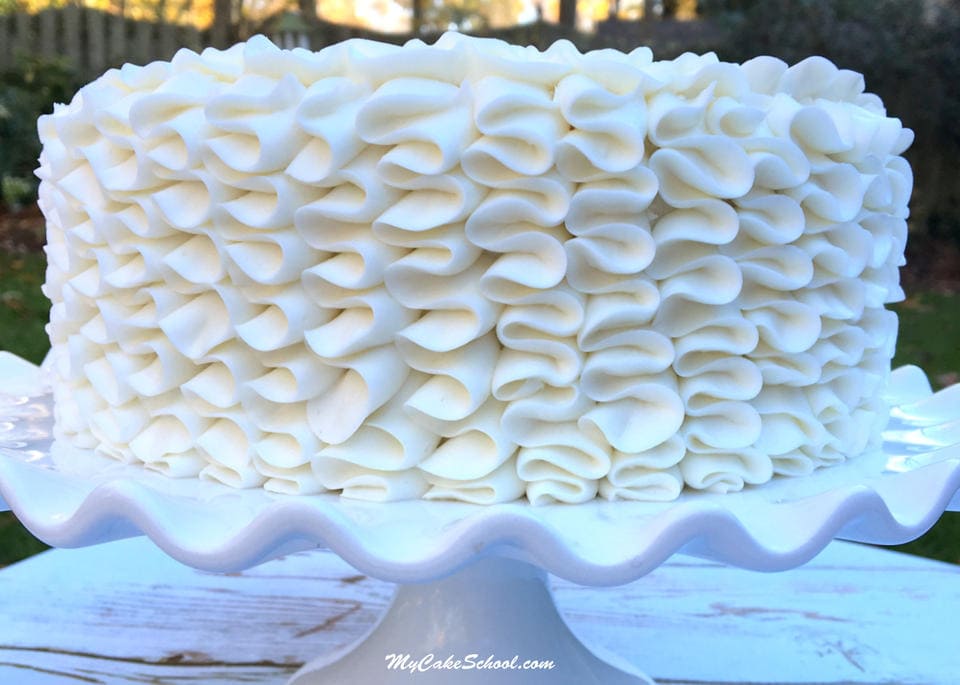 We will go over all of the key baking and cake decorating tips and tricks that will help you to become a better baker and cake decorator!
These cake decorating methods are tried and true, and as you will see, they are not difficult to do! Have fun experimenting!
Part One of our tutorial covers mixing, baking, and freezing your layers.
Part Two of our tutorial covers trimming, leveling, settling, and decorating!
*Please find our additional notes, RECIPE, and materials beneath the video. Enjoy!
Materials Used:
We used THIS VERSION of our White Almond Sour Cream Cake Recipe (conventional creaming method)
Buttercream
Two 8″ cake pans
Digital Scale (optional.)
Wilton 104 piping tip
Cardboard cake circle
Notes:
Here is our process of making & baking the cake:
For the most accurate results, weigh your ingredients..especially flour (assuming the recipe includes weight amounts)
Divide batter among your prepared pans (coated with vegetable shortening or flour, lined with waxed paper or parchment circle)
We like heavy duty aluminum pans (Magic Line is our favorite. Fat Daddio's is a good option too.)
Cake layers are done when they spring back when the center is lightly touched…or the toothpick test comes out clean (or with just a few crumbs.)
After removing the cake layers from the oven, place pans on elevated rack for about 10-15 minutes before flipping cake layers onto the cake boards.
Wrap and freeze the cake layers while they are still warm–this will give you an extra moist cake.
Thaw frozen cake layers while still wrapped until partially frozen.
Level & Trim sides as needed with a serrated knife.
Place bottom cake layer on cake board, add filling/frosting (dam as needed)
Wrap unfrosted tier with plastic wrap & apply a weight to the top. Settle the tier for at least three hours or overnight.
Trim cake board down to size as needed. Crumb coat. Apply final coat of frosting or fondant.
** If your smoothing method (Viva paper towel method for instance) requires a crusting buttercream, WAIT until cake is room temperature before applying the final coat of frosting. When crusting buttercream is applied to a cold cake, it takes forever to crust.
Conventional Creaming Method vs. Reverse Creaming Method
In today's tutorial, we used the Conventional Creaming method which involves creaming the butter and sugar, adding the eggs, and then alternating between dry & wet ingredients (beginning and ending with the dry ingredients/flour mixture). This is thought by some to be a more forgiving technique than the reverse creaming (although I like both methods!)
The Reverse Creaming method (also known as the hi-ratio or two stage mixing method) is used in our recipes from time to time. The ingredients are the same, but are added in a different order. With this method, the dry ingredients and the sugar are mixed first. Then the fats and a portion of the liquids are combined with the dry ingredients, followed by the remaining liquids. The result is a velvety cake with a finer crumb. **The Reverse Creaming method is meant for recipes that have a greater amount of sugar than flour (by weight).